Hansel children amusement park big ride on animals stuffed electric battery operated ride animal

Hansel company are in the business of entertainment rides for children. We are a professional motorized animals manufacturer in Guangzhou, China. We lease electronic plush motorized animals to people who are interested in owning and operating their own mall business.


These portable amusement rides, which are battery operated, are sure to be a hit with your little one. With an array of musical genres to choose from while riding, as well as several different animals to choose from a perfect opportunity to foster your child's sense of individuality in a safe and structured environment. Still a little skittish of turning the reins over to the little ones? No worries, each animal is able to withstand a weight of up to 130 kilos, so you can take a ride with them if you'd like.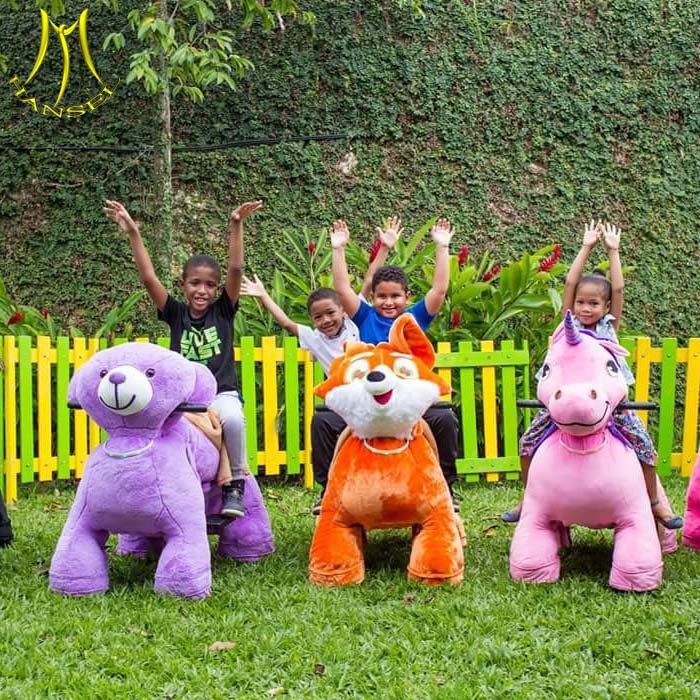 Plush motorized riding animals are also called plush animal bike ,walking animal car, ride on animal toys,4 wheels animal bikes, happy rides on animals, mountable animals,plush toy on animal, animals electric scooter , children play electric motorized animals, electric toy cars for kids, toy rider coin animal , coin operated animal ride electric, stuffed animals walking ride, motorized plush animals, zippy toy rides on animal, kids ride ,kiddie ride machine, battery operated toys ,animal plush ride , animal kiddie ride etc .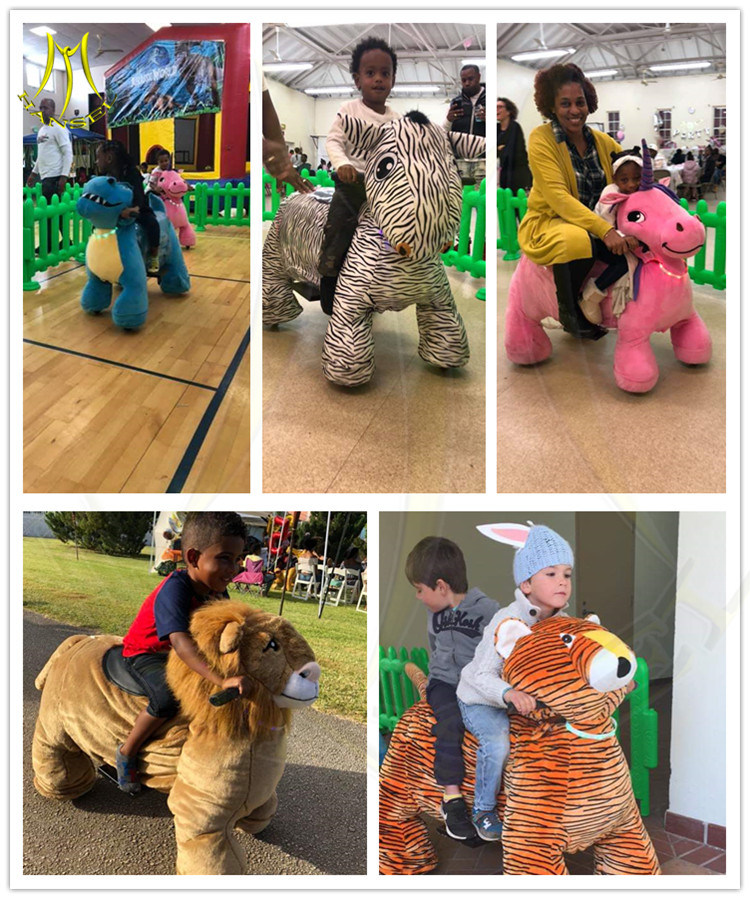 Motorized animals are often seen in shopping malls, parks, arcades, and game centers. However, it is becoming more and more popular for people to rent motorized animals for various types of parties and events. Some businesses also purchase motorized animals to resell them.Some parents also buy animals as gift for their kids.
Please check the details below :-)
| | |
| --- | --- |
| material: | black paint steel tube frame (external diameter: 25mm,thickness:2mm ),fireproof animal design plush cover |
| Control box: | time ,coins , volume ,music control,1-5coins to play 1-99 minutes |
| Coin Counter: | LED display, can not be cleared till 100000 |
| Diameter range of token: | 18-30mm. |
| Thickness range of token: | 1.2-2.4mm. |
| Battery: | chargeable, 12v/20A , charge 4-6 hours to play 6-8 hours |
| Charger: | 12V/1.5A charger, one charger for one machine |
| Music: | In SD card, can change music by yourself |
| Speed: | 30-60m/min, the speed is related to the ground and weight of players. The more smooth of the ground, the faster of the rides. |
| Bearing Capacity: | 150kgs (Parents can ride with kids) |
| Player: | 1-99 years, fun for all people |
| Certificate: | CE,ASTM |
| Main market | Hansel plush ride on animal toy are sold to over 100 countries. They are most popular in European and South American countries such as USA, Spain, France, UK, Colombia,Russian Federation, Chile, Venezuela, Netherlands, etc. |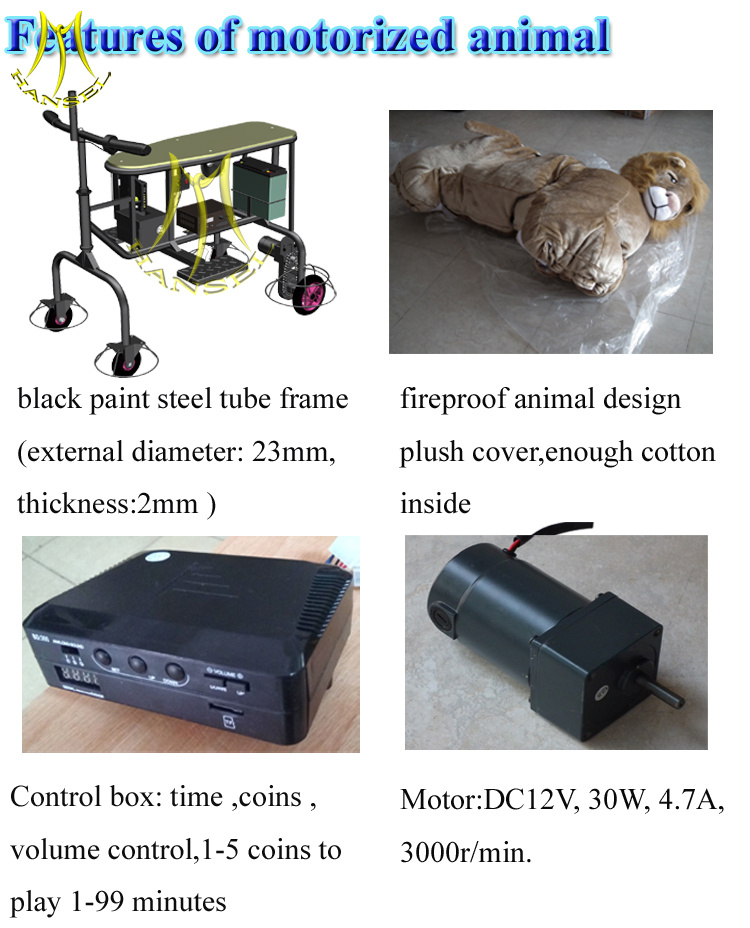 Advantages of Hansel electric stuffed animal ride :
A. Safety is the first consideration for Hansel walking animals. Green painting of tube, fireproof plush and fine texture, soft, not wool, not ball, don't rub off
B.Simple and easy investment, fast and high profits.
C. Free spare parts for maintenance, 24 hours on line service
D. Sales and technicians have been doing motorized animal business for 8 years.So we can always give you more professional support.
E.With CE and ASTM certificate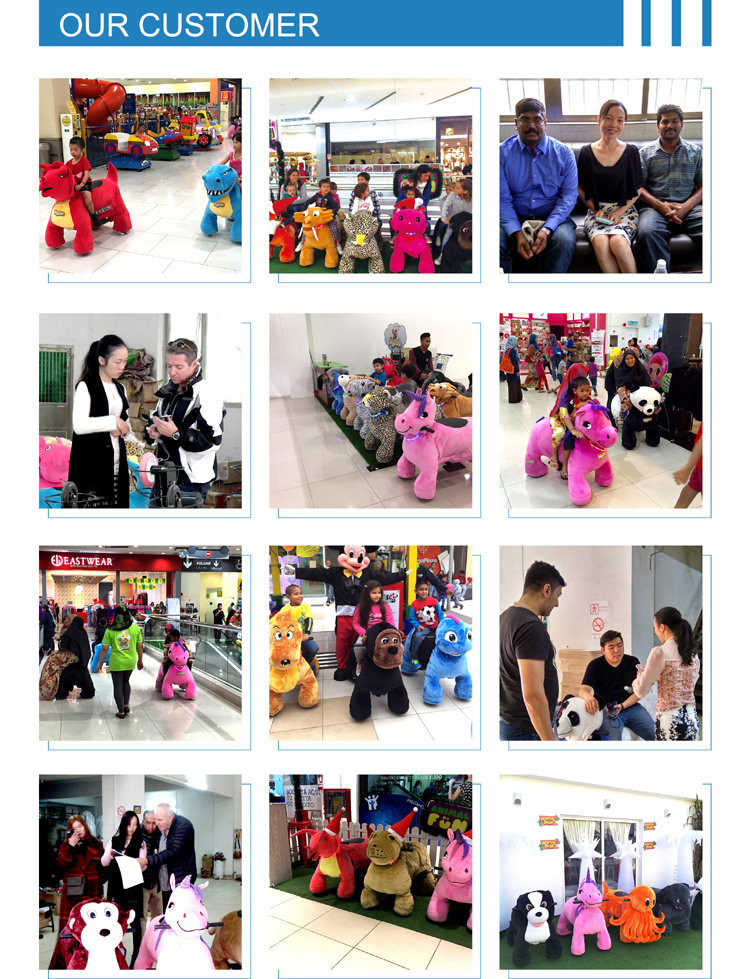 Product features and applications of electric stuffed animal ride below

1. High quality animal design plush cover,best appearance and color effect
2. 50 different vivid design and amazing shape
3.CE,ASTM,MSDS passed,fireproof cover protection
4.Two system choice for different business type
4. Easily control and manage,the cover is washable
5. Widely applicable site:mall,park,center,home,square,playground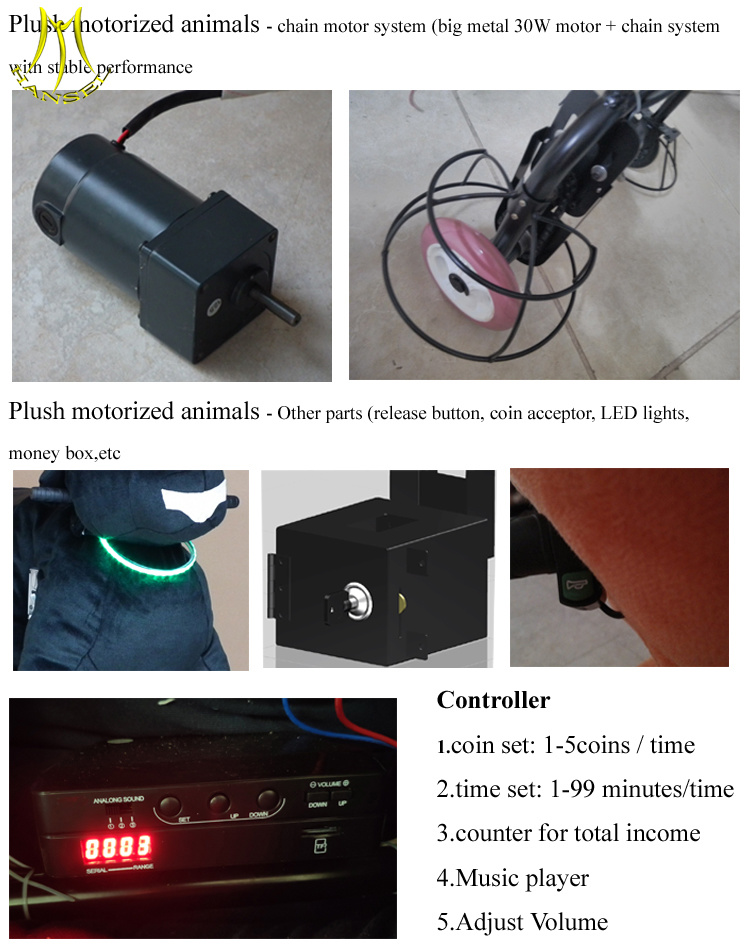 Where are popular places electric stuffed animal rideare used?
A-Shopping mall, outdoor park, game center , indoor /outdoor , family entertainment center etc
B-Rent for family parties, events, Fun fair and Festivals, Schools fun day, Summer Camps, Street Festivals,
C-Resell and wholesale
D- As a gift to kids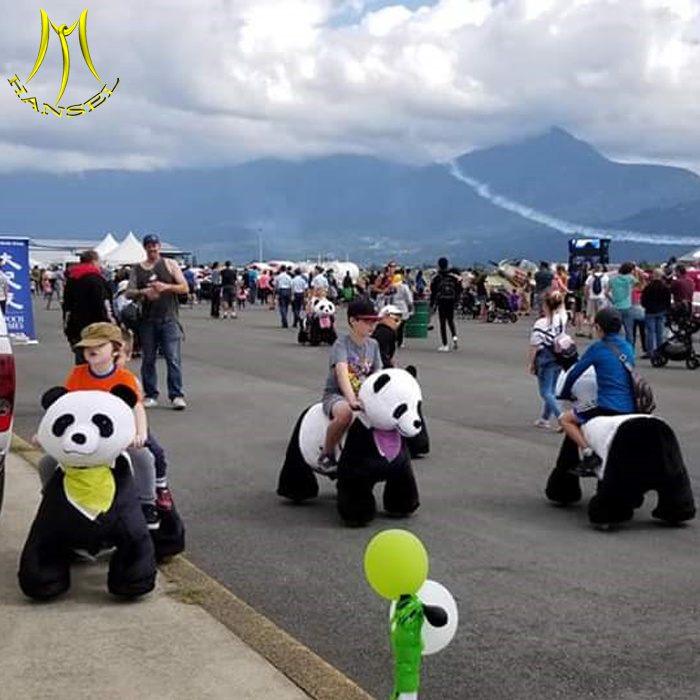 What is Hansel plush motorized animals?
Motorized animals are adventurers who ride our safe, padded motorized versions of different kinds of animals. They operate easily by the push of a button and move at walking speed making them easy to keep up with.

Plush motorized animal are also called walking animal bike ,battery animal car, ride on animal toys,4 wheels bikes, happy rides, mountable animals,plush toy on animal, animals electric toys, children play electric operated coin toys, electric toy cars for kids, toy rider coin animal , toys animal electric, stuffed animals that walk, motorized plush animals, zippy toy rides on animal, kids ride ,kiddy ride machine, battery operated toys ,animal walking toys, battery operated ride animals and so on. There are different animal designs with cool music which are attractive for players 1-101 years. They are goods investment for shopping malls, super-market ,parties, events,game centers, amusement park and play ground,etc.

Models of Hansel plush motorized animals
There are 40 different animal designs for your choice. More animal models will be available for the demand of market.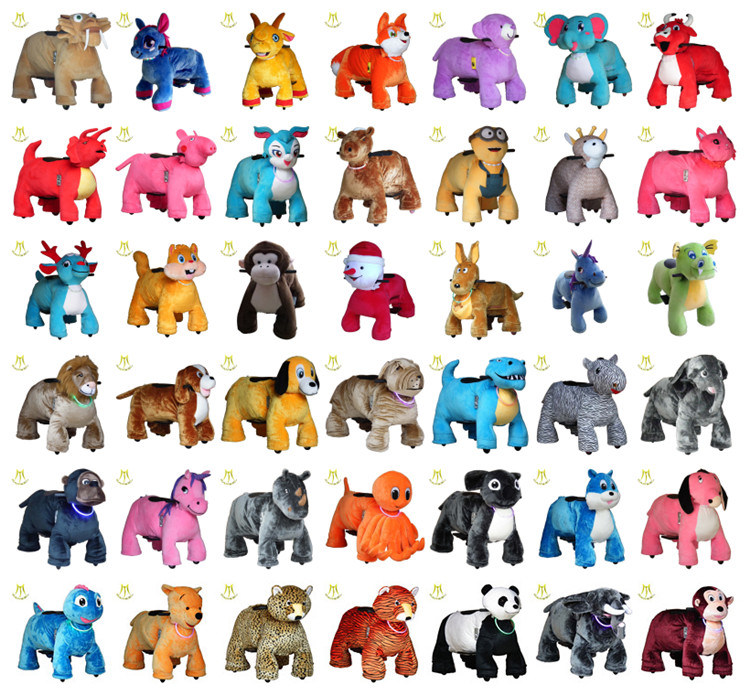 Hansel new animal models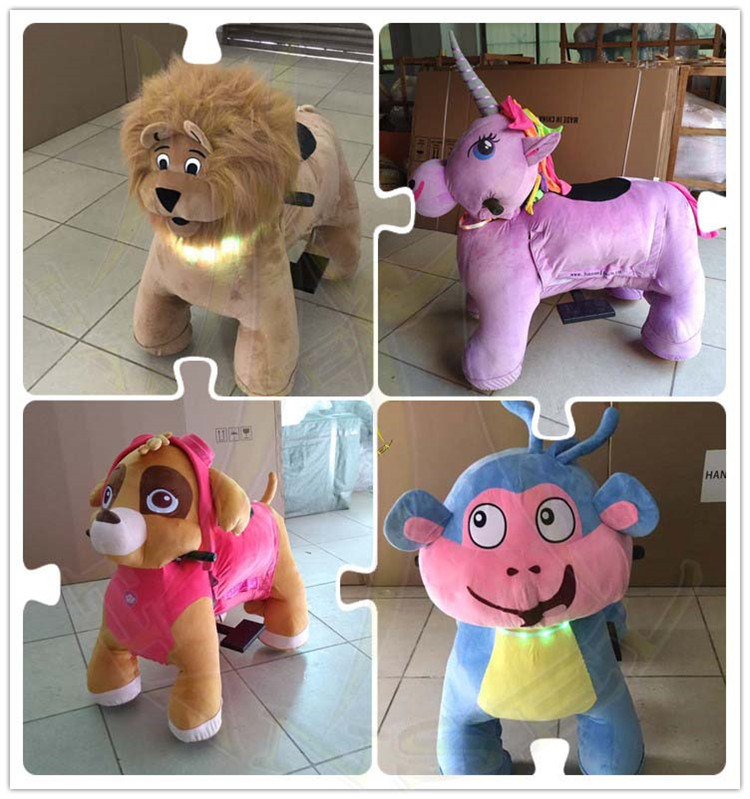 5. System of plush motorized animals
Coin operated system : 1-5 coins to play 1-99 minutes. Normally 90% customers choose coin system, if they run run business in shopping mall, game centers, playground, amusement parks.
No coin operated system: control the movement with the left hand button. It is no time controller. When press the button, it will go. When release the button, it will stop. Some clients choose non-coin zoo ride to rent them to the parties or buy for their kids.It is good for rental business like parties, events, show, advertising, shopping centers, etc.

Workshop of plush motorzed animals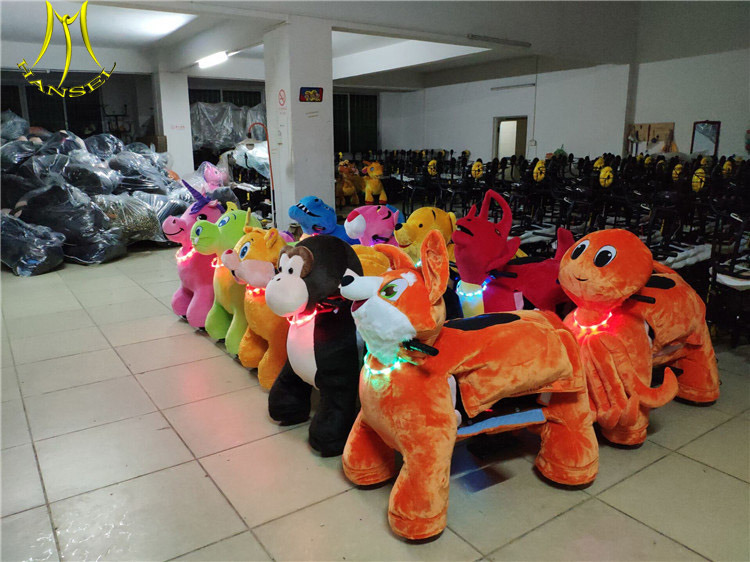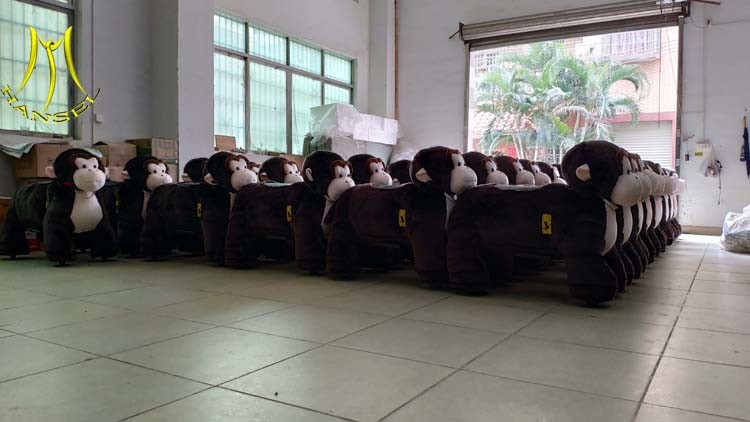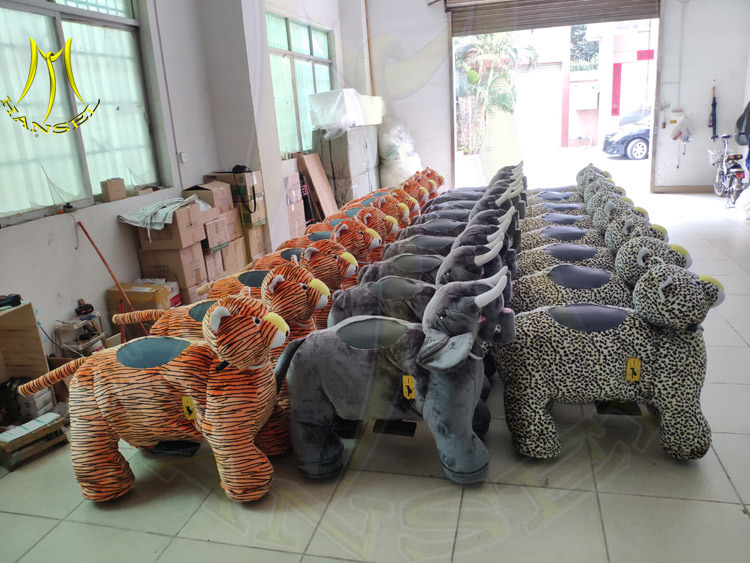 Hansel main products
1. Kids battery operated ride : plush motorized animals, plastic bumper car , amusement motorcycle , train ride .
2. kid coin operated rides : kiddie rides, carousel ride .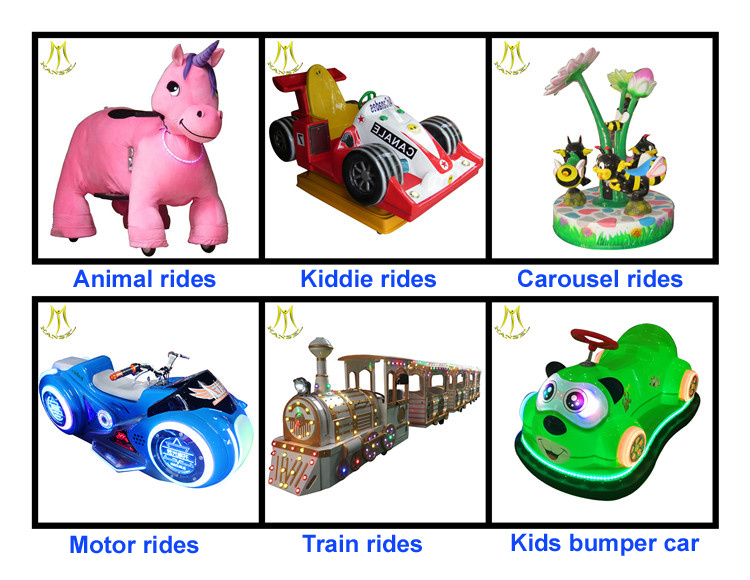 Thanks for reading our website . Any ideas ,welcome enquiry for our animal rides .Thanks :)